MT5 Super Trend Indicator
Rated 4.00 out of 5 based on

1

customer rating
1

review
$0.00
A renowned and reliable tool in the foreign exchange business. Known for its accuracy and non-repainting nature, this indicator is a popular choice among traders.
Categories: Free, Indicators, MT5
Tags: Buy/Sell Signal Indicator, Forex Indicator, Forex Trading Indicator, Forex Trading Tool, indicator supertrend, Market Analysis Tool, MetaTrader 4 Indicator, Momentum Indicator, MQL4 Super Trend Indicator, MT4 Super Trend Indicator, mt4 supertrend indicator, MT5 Indicator, Price Action Indicator, Price Trend Indicator, Super Trend Indicator, supertrend free download, supertrend indicator, SuperTrend Indicator for MT4 supertrend strategy, supertrend indicator mt4 super trend indicator, supertrend mql4 free download, SuperTrend mt4 Indicator, Swing Trading Indicator, Technical Analysis Tool, Trading Indicator, Trading Strategy Indicator, Trading System Indicator, Trading Tool, Trend Following Indicator, Trend Identification Tool, Trend Reversal Indicator
Description
Trend identification:

Helps identify uptrends and downtrends in the market.

Entry and exit signals:

Generates signals for potential buying and selling opportunities. 

Risk management:

Incorporates market volatility to adjust stop-loss levels dynamically. 

Versatility:

Applicable to different markets and timeframes, making it adaptable to various trading styles.

Customization:

Settings such as ATR period and multiplier can be customized based on preferences.

Visual representation:

Provides a colored line on price charts for easy visualization of trend direction.

Easy to use:

Simple to understand and implement in trading strategies.

Technical analysis tool:

Used in conjunction with other indicators and analysis techniques for comprehensive trading decisions.

 

Historical backtesting:

Can be backtested on historical price data to evaluate its effectiveness.

Real-time monitoring: Provides real-time updates on trend changes, allowing for timely trading decisions.
Conclusion:
Settings
Period: Specify the period or length of the Super Trend indicator.
Multiplier: Set the multiplier value for calculating the Super Trend indicator.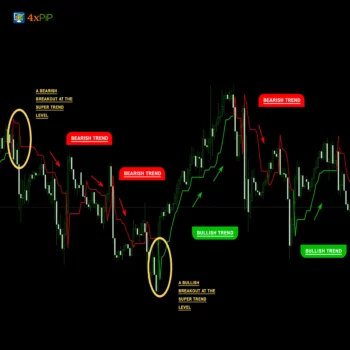 MT5 Super Trend Indicator
Your review
* Review is required
Email
* Email is required
Q & A
There are no questions yet