4xPip ​​blogs that provide latest information regarding market trends, geopolitical events, trading strategies and automated trading. It contains articles for the need of every trader from basic to advance level. 4xPip blogs cover all popular trading platforms including MT4, MT5, and tradingview. All the blogs are updated according to 2023 market trends.
4xPip blogs contain information for indicators and autotrading EAs. Blogs provide a complete guide regarding automated trading bots. You can learn bot installation, its operations and resolution of errors. 4xPip team spent so many years to find powerful trading techniques for MetaTrader and TradingView.
Money Management, Reducing Drawdown, Risk to Reward Ratio:
Learn effective money management techniques to protect your trading capital, reduce drawdowns, and optimize risk to reward ratios for more profitable trades on MT4, MT5 and Tradingview.
Consolidation, Support and Resistance, Double Top, Double Bottom:
Discover how to identify key price levels, such as support and resistance, and recognize chart patterns like double top and double bottom to anticipate financial market reversals for manual trading and automatic trading. Use our best indicators.
Candlestick Patterns, Price Action Strategies, and Supply Demand:
Master the art of reading candlestick patterns and using price action strategies to make informed trading decisions. Understand the dynamics of supply and demand to find high-probability trade setups.
Technical Analysis Including Moving Average, Bollinger Bands, RSI, Stochastic, MACD, ADX:
Harness the power of technical indicators like moving averages, Bollinger Bands, RSI, stochastic, MACD, and ADX to analyze price trends, identify entry and exit points, and validate trade signals. Easy identification of forex signals and turning best technical indicators into EA.
License System for Managing Subscriptions and Trader Accounts:
Implement a robust license system into EA to efficiently manage subscriptions and trader accounts, ensuring secure access to your EA and maintaining control over user licenses. So that only authorized users can access your EA robot on MT4, MT5 platforms.
Martingale, Hedging, and Averaging:
Explore advanced trading strategies such as Martingale, hedging, and averaging, understanding their risks, benefits, and when to use them in specific market conditions. Turn them into autotrading EA to generate high performing results.
Trailing Stop and Break Even:
Optimize trade management by employing trailing stoploss to protect profits and secure favorable market movements. Learn how to set break-even point to eliminate the risk of losing capital. Trade securely and hassle free using 4xPip EA.
News Stopout EA for Trading during News Events:
Discover the benefits of using a News Stopout Expert Advisor (EA) to automatically pause trading activities during high-impact forex news events, avoiding potential market volatility and unpredictable price movements.
Trade Manager for Efficient Manual Trading Operations:
Utilize a comprehensive trade manager EA to streamline manual trading operations, enabling easy management of trade parameters like autolotsize, stop loss (SL), take profit (TP), and more. Try 4xPip premium product now.
Telegram Integration for Seamless Trading Communication:
Integrate Telegram into your trading workflow to receive real-time trade alerts, updates, and notifications, enhancing communication and ensuring you never miss important trading opportunities. Send real-time alerts from MT4 to telegram channel. Send real-time alerts from MT4 to telegram channel.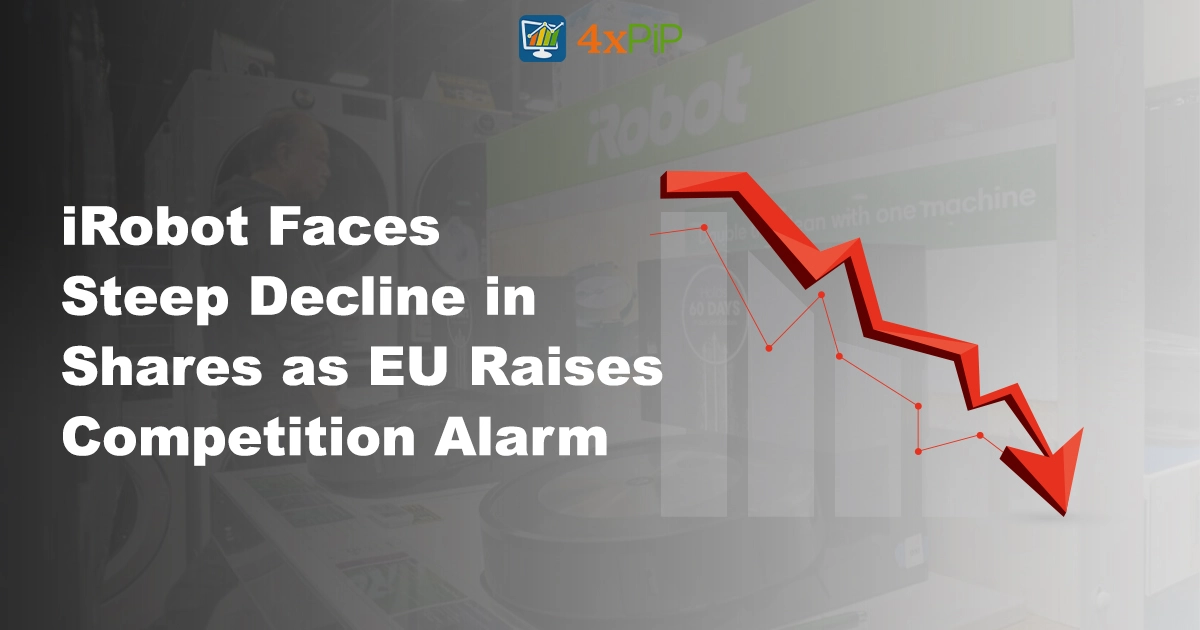 November 28, 2023
iRobot shares experienced a significant 17% drop on Monday. Additionally, this decline was in response to warnings from the European Union's antitrust watchdog regarding Amazon's proposed...