MT4 EA to send Signal Alerts to Telegram channel
$99.00
The 4xPip provides Telegram integration into your MT4 EA or indicator through which you will be able to send signal alerts from MetaTrader 4 to Telegram channel uninterruptedly. You will be able to add your fellow traders into telegram channel and let them notify about your trading signals and alerts. You can even sell trading signals through telegram channel where MT4 can send emojis, texts and pictures. Stay connected to the market and never miss a trading opportunity with this efficient and reliable solution.
Categories: Expert Advisor, MT4, Premium
Tags: download telegram mt4, forex signals, MetaTrader to Telegram, mql4 telegram, mt4 telegram, mt4 to telegram, MT4 to telegram alert, MT4 to telegram EA, MT4 to telegram EA free, MT4 to telegram free download, MT4 to telegram signal, MT4 to Telegram Signal Provider, Send signals from MT4 to Telegram, Send Text and Images to Telegram from MT4, telegram alerts in mql4, telegram alerts in mt4, telegram integration, Telegram trade copier, Trading Signals
Description
Experience the ultimate convenience and real-time connectivity between MetaTrader and Telegram. The 4xPip is offering MetaTrader to telegram service using the telegram API through which you can send signal messages, alert, texts, emojis and even pictures to telegram channels instantly. Everything is so quick and realistic that you will be surprised to see that your own bot is sending notifications to the channel. You will be able to sell your signals to customers and fellow traders to generate good income through this business.
The 4xPip can add telegram alerts to your indicator and EA both. If you are looking for a ready made consistent indicator to generate telegram forex signals, yes, we do offer this service as well. So, automate your Telegram chat using mt4 forex EA, why are you waiting for. Here are some benefits of Telegram forex:
Instant Alerts to Telegram Channel:

Receive real-time trading alerts and notifications directly to your Telegram channel, ensuring that you never miss a potential trading opportunity. Stay connected to the markets even when you're away from your trading platform.

Customizable Alert Settings:

Tailor the MT4 to Telegram alerts to your specific needs by customizing parameters such as indicator settings, operating hours, trade triggers, market conditions, and technical indicators. Set up personalized alerts that match your trading strategy and preferences.

Trade Signals and Market Updates:

Gain access to valuable telegram trading signals and market updates delivered straight to your (mobile phone) Telegram channel. Stay informed about the latest market trends, price movements, and potential trading opportunities wherever you go.

Send Trades information:

You can send trades information from MetaTrader 4 to Telegram such as amount of risk, stoploss, takeprofit, and trade closing criteria.

Send Text, Emojis, Pictures to Telegram:

Traders are even able to send any information to the Telegram channel such as text messages, emojis, pictures for better readability and information.

Reliable and Secure Communication:

Rest assured that your trading alerts are delivered securely to your Telegram channel. Benefit from a robust and reliable communication system that ensures the timely and accurate transmission of trading information.

Telegram as Business (Signal Provider):

It is not just a telegram channel but a stable revenue stream. Successful traders can add their customers into telegram channel to sell their signals on subscription basis. It will be served as a good source of income for longer period of time.
Telegram EA Alerts work tirelessly 24×7
We design Expert Advisor that bridges the gap between your MetaTrader 4 platform and your Telegram channel, providing you with instant trading notifications and alerts. With seamless integration and reliable performance, this solution is designed to keep you informed, empowered, and ready to take action in the ever-changing financial markets.

What is Telegram EA MT4?
The 4xPip provides telegram integration services inside your MT4 EA through which your EA will be connected to the telegram channel and will be sending forex signals tirelessly. The Telegram EA is a great automatic robot to share trading information with customers and instant notifications.
How does MT4 to telegram works?
The MT4 platform is connected with Telegram channel through the telegram API using the Webrequest function call. The tmsrv.pw bot is being used to fetch the telegram channel token. Every channel has a unique token, which is used to identify the channel and share information into it. The EA sends information to the correct channel by using this token through the webrequest function call.
Can I use it as a Telegram Signal Provider?
Yes, you can use it as an MT4 to telegram signal provider. It will be very helpful for your trading business and you can generate good revenue from this business by selling your signals on monthly subscription basis.
Conclusion

In the dynamic world of forex trading, where every second counts, the integration of MetaTrader with Telegram stands as a groundbreaking development. The possibilities are limitless. 4xPip provides an amazing service through which, traders can seamlessly send signal messages, alerts, text, emojis, and even images to telegram channels, opening the door to a new level of connectivity and collaboration. What's more, this innovative offering isn't limited to communication alone. Traders can also sell their forex signals to customers and fellow traders, thereby generating a stable income stream.
The benefits of Telegram in the realm of forex are abundantly clear. As the world of forex trading continues to evolve, the MetaTrader to Telegram service by 4xPip serves as a beacon of innovation and convenience, ushering traders into a new era of seamless, efficient, and profitable trading. Don't wait; seize the opportunity to elevate your trading experience with Telegram forex integration today. Automate your Telegram chat using MT4 forex EA, why are you waiting for? Contact 4xPip below to setup a high-income business.
Reach Us on WhatsApp
Fly Over to Telegram
Drop Us an Email
Settings
Period: Sets the period of the trend indicator, which determines the number of bars used to calculate the trend.
AlertsOn: Enables or disables alerts for the trend indicator.
AlertsMessage: Determines whether alerts should be displayed as a message on the chart.
AlertsEmail: Determines whether alerts should be sent to the trader's email address.
AlertsSound: Determines whether alerts should be accompanied by a sound alert.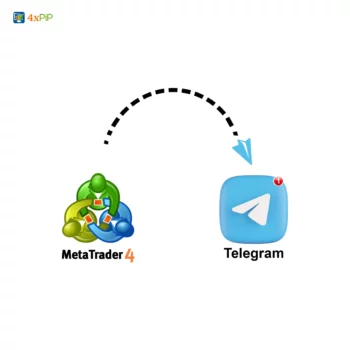 MT4 EA to send Signal Alerts to Telegram channel
Your review
* Review is required
Email
* Email is required
Q & A
How to link bots to telegram channel?
John Stewart

asked on October 18, 2023
The bots are being programmed by 4xPip team through which they are able to send information to telegram channel 24x7 tirelessly.
Customer Support

answered on October 18, 2023
store manager
Do people sell on Telegram?
Hannah Wright

asked on October 18, 2023
Yes, people sell their physical and ecommerce products on telegram. The traders can even sell their trading bots, indicators, EAs and signal information through the Telegram.
Customer Support

answered on October 18, 2023
Can I make money on Telegram?
Christopher Adams

asked on October 18, 2023
Yes, there are many ways to make money on Telegram, one way is by selling forex signals through telegram channels, groups and communities.
Customer Support

answered on October 18, 2023
Are Telegram channels free?
Sarah Turner

asked on October 18, 2023
Not all telegram channels are Free. It depends on the owner, but mostly the premium signals come with minor cost.
Customer Support

answered on October 18, 2023
Are Telegram forex signals legit?
Andrew King

asked on October 18, 2023
Yes, telegram forex signals legit, but it's recommended to always check their profitability.
Customer Support

answered on October 18, 2023
Sorry, no questions were found