MT4 Mega Indicator
$0.00
The Mega Indicator MT4 is the best arrow Indicator that helps traders identify potential trends and opportunities in the market to open trades with high accuracy.
Description
The Mega Indicator MT4 is the best indicator for technical analysis that helps traders identify potential trading opportunities in the market to open trades with high accuracy. It offers a wide range of features that enable traders to make highly accurate trading decisions and maximize profits.
Trend Identification: The MT4 indicator helps identify the direction of the prevailing trend by analyzing price action, moving averages, or other technical indicators. It is using various methods such as trend lines, trend channels, or trend strength calculations.
Support and Resistance Levels: The indicator identifies key support and resistance levels based on historical price data. These levels can help traders make decisions about entry and exit points, as well as potential areas for profit-taking or stop loss placement.
Volatility Measurement: The indicator can measure market volatility using techniques like average true range (ATR) or Bollinger Bands. This information can assist traders in determining appropriate position sizes, setting stop losses, or identifying potential breakouts.
Momentum Analysis: The indicator calculates and displays momentum indicators, such as the Relative Strength Index (RSI), Moving Average Convergence Divergence (MACD), or Stochastic Oscillator. These indicators help identify overbought and oversold conditions, potential trend reversals, or divergences.
Pattern Recognition: The indicator may include pattern recognition capabilities to identify chart patterns like triangles, double tops/bottoms, head, and shoulders, or other popular patterns. This feature can help traders spot potential trend continuation or reversal signals.
Customizable Alerts: The indicator allows traders to set up customizable alerts or notifications for specific conditions or events, such as trendline breaks, moving average crossovers, or pattern formations. This helps traders stay informed about potential trading opportunities.
Multiple Time Frame Analysis: The indicator may provide the ability to analyze multiple time frames simultaneously, allowing traders to assess the overall market trend and potential trade setups across different time horizons.
Conclusion:
With the Mega Indicator MT4, traders can gain a competitive edge in the market by identifying potential trading opportunities with greater accuracy and precision, leading to improved performance and higher profits.
Reach Us on WhatsApp
Fly Over to Telegram
Drop Us an Email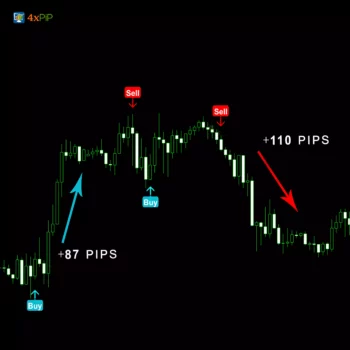 MT4 Mega Indicator
Your review
* Review is required
Email
* Email is required
Q & A
There are no questions yet