MT5 EA Stochastic
$0.00
MT5 Stochastic EA execute trades according to the Stochastic indicator. The stochastic oscillator consists of very accurate two line pattern. The EA opens Buy / Long when Stochastic crosses in Oversold region and Sell / Short when Stochastic crosses in Overbought region. It allows trader to change Stochastic settings, levels, lotsize, stoploss, takeprofit etc. Additionally, the EA offers Trailing stoploss, BreakEven, and Risk% lotsize to manage trades effectively and provide high profits.
Description
The Stochastic EA is a robust expert advisor compatible with the Metatrader 5 platform, designed to streamline your trading process and maximize your trading profits. This EA identifies the stochastic main line cross with the signal line to enter Buy / Sell trades. The stochastic crossover is a good strategy during Overbought and Oversold market conditions, allowing it to execute trades automatically. With customizable parameters, traders can optimize their settings to find the best combination.
Entry Criteria: The EA opens buy or sell trades based on the Stochastic indicator. It triggers a Buy / Long trade when the Stochastic lines crosses below oversold (e.g. 30) and a Sell / Short trade when Stochastic lines crosses above overbought (e.g. 70).
Exit Criteria: Trades can be closed on Takeprofit, Trailing stoploss or BreakEven.
StopLoss and TakeProfit: The EA allows you to set stoploss and takeprofit for your trades.
Trailing Stoploss: The EA offers trailing stoploss to trail SL along with the price, generating high profits and providing an optimum exit point.
BreakEven: The EA offers break-even point to lock certain profit for a trade so that it never closes out in loss.
Risk Management: The Stochastic EA offers fixed amount of lotsize and dynamic lotsize based on Risk % of Equity.
Stochastic settings: The EA offers inputs to modify the Stochastic parameters, such as overbought level, oversold level, %K period, %D period, Slowing, Price Field, and MA Method.
Alerts: It sends alerts to Mobile, Email and MetaTrader Desktop whenever an order is placed.
Live Market: The MT5 Stochastic EA has the ability to run in the live market across all charts & pairs.
Backtesting and Optimization: It allows you to backtest EA and optimize parameters, to test the EA's performance and find the most suitable configuration for your trading strategy.
Conclusion:
Do not waste your time looking for EAs. Try this stochastic robot today to win high pips in market trends and pullbacks. Because it consists of very accurate two line pattern. When Stochastic Main line crosses Signal line in the oversold region it enters a Perfect Buy trade through which you can win high pips. Likewise when Stochastic Main line crosses Signal line in the overbought region it enters a Perfect Sell trade. Take advantage of stochastic EA, invest in this reliable trading bot today and experience the benefits of automated trading with Stochastic oscillator.
Reach Us on WhatsApp
Fly Over to Telegram
Drop Us an Email
<hidden>This EA is compatible with Stochastic in Stocks and Stochastic in forex. EA executes trades according to stochastic fast line and stochastic slow line crossover.<hidden>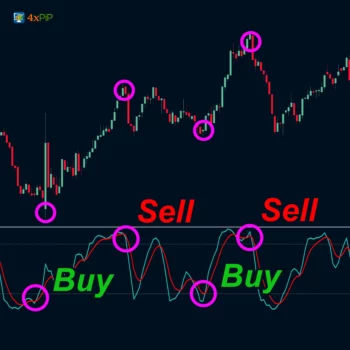 MT5 EA Stochastic
Your review
* Review is required
Email
* Email is required
Q & A
There are no questions yet