MT4 Optimized MA Indicator
$0.00
The MT4 Optimized MA Indicator is a powerful technical analysis tool designed to help traders identify potential trends in the forex market. 4xPip designed an optimized version of the moving average indicator to generate accurate results. MT4 optimized indicator generates a signal based on crossovers that assist traders for potential exit and entry points. It helps traders in identifying uptrends and downtrends in the market.
Description
The 4xPip Optimized MA Indicator is the best indicator for all financial traders, from beginners to experts looking to improve their technical analysis. Moreover, this powerful optimized version of the moving average indicator uses an advanced algorithm to accurately identify potential trends in the market, providing forex traders with valuable insights into market movements. Furthermore, with its customizable settings and user-friendly interface, the MT4 Optimized MA Indicator is an essential addition to any trader's indicator.
Moving Average Calculation:

4xPip MT4 Indicator uses the moving average formula to calculate and plot moving averages (MAs) and weighted moving averages (WMAs) on the price chart. Moving averages smooth out price data over specified period, providing traders with all types of moving averages with trend-following indicator. It uses all MAs including simple, weighted, double, triple, linear, and exponential moving averages.

Trend Identification:

Also, this 4xPip Optimized MA Indicator helps identify the direction of the prevailing trend. Traders can analyze slope and position of moving averages to determine if market is in uptrend, downtrend, or sideways range.

Buy trade and Sell trade:

MetaTrader 4 optimized MA Indicator assists forex traders in identifying uptrends and downtrends in the market. It helps traders to determine potential buy trade and sell trade.

Signal Generation:

Consequently, the indicator generates signals based on the crossovers between different moving averages or between the price and the moving averages. These crossovers can indicate potential entry or exit points for trades.

Multiple Timeframe Analysis:

Furthermore, 4xPip Optimized MA Indicator allows traders to simultaneously apply moving averages of different timeframes. This feature enables them to assess alignment of trends across various timeframes and make informed decisions to generate maximum profit.

Dynamic Support and Resistance:

Moving average acts as dynamic support or resistance levels. Traders can monitor price interaction with moving averages to identify potential areas of support/resistance during uptrends/downtrends.

Trend Reversal Identification:

Moreover, this indicator uses the moving average method to determine changes in the Slope or direction of the moving averages which indicates potential trend reversals. Traders may look for these reversals to identify opportunities to enter or exit trades.

MT4 Optimized MA Indicator Dots:

This 4xPip indicator uses 2 colors blue and red to assist traders in identifying uptrend, downtrend, and consolidation. The blue color indicates an uptrend while the Red color indicates a downtrend and consolidation in the market.

MT4 Optimized MA Indicator settings:

Traders can modify parameters, including period AMA, Nfast/Nslow, G, Dk, Price, AMA_trend_type, colors, and visualization.

Alerts:

Lastly, i

t sends alerts to Mobile, Email, and MetaTrader Desktop whenever a signal is generated.
Conclusion
In conclusion, MT4 Optimized Indicator is a tool designed by 4xPip for all financial traders for enhancement of technical analysis. Additionally, it assists forex traders through its advanced algorithm in identifying potential uptrends and downtrends. Moreover, this valuable indicator helps traders by indicating potential trend reversals. Consider investing in this valuable indicator and improve your trading performance lifetime. Download it now. 
Settings
periodAMA: The period used for calculating the Adaptive Moving Average (AMA).
nfast: The fast smoothing factor for the AMA calculation.
nslow: The slow smoothing factor for the AMA calculation.
G: The gain factor used in the AMA calculation.
dK: The standard deviation factor used in the AMA calculation.
PriceType: The type of price used for the MA calculation.
AMA_Trend_Type: The type of trend calculation for the AMA indicator.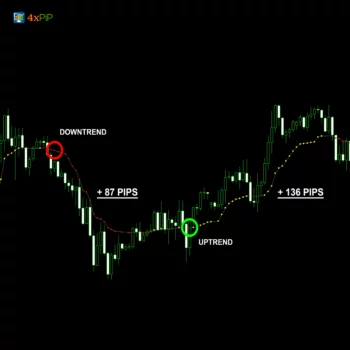 MT4 Optimized MA Indicator
Your review
* Review is required
Email
* Email is required
Q & A
There are no questions yet