MT4 Improved RSI Indicator
$0.00
The MT4 Improved RSI Indicator is a powerful technical analysis tool designed to help traders identify potential trend reversals in the forex market. With its advanced algorithm and customizable settings, this indicator provides accurate and reliable signals for traders of all experience levels.
Description
Relative Strength Index Calculation: The MT4 improved RSI indicator calculates and displays the Relative Strength Index (RSI) on the price chart. RSI is a momentum oscillator that measures the speed and change of price movements, indicating overbought and oversold conditions.
Enhanced RSI Calculation: The Improved RSI Indicator may incorporate modifications or improvements to the traditional RSI calculation. These enhancements could involve adjustments to the smoothing period, formula, or additional measures to provide more accurate or responsive signals.
Overbought and Oversold Levels: The MT4 improved RSI indicator marks specific levels on the RSI scale (70 and 30) to indicate overbought and oversold conditions. RSI indicator assists forex traders to execute buy trade or sell trade. Traders may interpret these levels as potential reversal zones or areas where the price may be due for a correction.
RSI colors: Moreover, the 4xPip improved RSI indicator contains 3 colors, Siyan, yellow, and black. Siyan indicates an uptrend while yellow indicates a downtrend, and black shows consolidation in the market. This valuable indicator accurately identifies trend direction and applies to buy or sell trade to generate maximum profit.
Price type: This MT4 improved RSI indicator uses a unique technique of introducing a numerical order by replacing alphabetic MA methods. 0 indicates close, 1 indicates open whereas 3 represents high, and 4 shows low moving average.
Multi Timeframe: This 4xPip indicator provides multi time frames (MTF) to the traders. It has the ability to work on current time frames and higher time frames as well.
Signal Arrows: Furthermore, this 4xPip MT4 improved RSI indicator is a valuable tool that uses an advanced algorithm that assists forex traders identify potential buy trades or sell trades through which trader generates maximum profit.
Divergence Detection: This MT4 Improved RSI Indicator can assist in identifying divergences between the RSI and price movements. Divergence occurs when the direction of the RSI disagrees with the price movement, potentially signaling a trend reversal.
Signal Generation: Also, the indicator generates signals based on the RSI crossing certain thresholds or other predefined conditions. Traders may look for RSI line crossovers, RSI level breaches, or changes in RSI direction to generate potential entry or exit signals.
Trend Confirmation: Traders can use the Improved RSI Indicator to confirm the direction of the prevailing trend. By analyzing the RSI's behavior in conjunction with price movements, traders can determine whether the market is in an uptrend or downtrend.
Filtering Noise: Moreover, 4xPip Improved RSI Indicator helps filter out market noise and smooths out fluctuations in the RSI line. This smoothing can assist traders in focusing on significant RSI movements and reducing false signals.
MT4 Improved RSI Indicator Settings: Parameters can be modified, such as period, overbought/oversold levels, color, and visual appearance of indicator.
Alerts: Lastly, it sends alerts to Mobile, Email, and MetaTrader Desktop whenever an order is

Placed.
Conclusion:
The MT4 Improved RSI Indicator is a powerful technical analysis tool that can help traders make more informed trading decisions. Additionally, with its advanced algorithm, customizable settings, and user-friendly interface, this indicator provides valuable insights into potential trend reversals in the market. Moreover, whether you're a beginner or an experienced trader, the MT4 Improved RSI Indicator is essential to your trading toolkit. Furthermore, don't miss out on the opportunity to take your trading to the next level with this powerful indicator.
Settings
RSIPeriod: The period used for calculating the RSI indicator (14 in this case).
PriceType: The type of price used for RSI calculation (0 indicates the close price).
timeFrame: The time frame used for the RSI calculation ("Current time frame" indicates the time frame of the chart being analyzed).
overBought: The RSI level considered as overbought (55 in this case).
overSold: The RSI level considered as oversold (45 in this case).
showArrows: Whether to display arrows on the chart indicating buy/sell signals (false in this case).
alertsOn: Whether to enable alerts for buy/sell signals (true in this case).
alertsMessage: Whether to display a message as part of the alert (true in this case).
alertsSound: Whether to play a sound as part of the alert (false in this case).
alertsEmail: Whether to send an email notification as part of the alert (false in this case).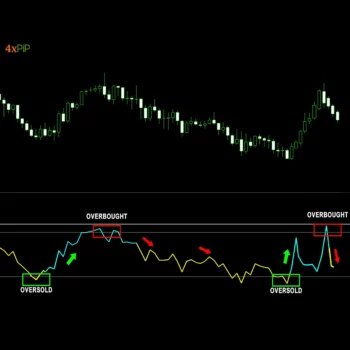 MT4 Improved RSI Indicator
Your review
* Review is required
Email
* Email is required
Q & A
Do you guys can make custom indicators or bots?
Yes kindly share your custom bot or indicator strategy on custom bot page form
From our contact us page you can also contact us by clicking on social media icons