MT4 Fisher Indicator
Rated 4.29 out of 5 based on

14

customer ratings
14

reviews
$0.00
The Fisher MT4 Indicator is the best technical indicator that helps traders identify potential trend reversals in the market, allowing them to make the best trading decisions. It is built on the top of oscillators that is proven and tested on major charts.
Description
The Fisher MT4 Indicator is an advance version of MACD for technical analysis that helps traders identify potential trend reversals in the market, allowing them to make accurate trading decisions. Some key features of this product include.
Trend Identification: The MT4 Fisher Indicator aims to identify the direction and strength of the market trend. It generates signals based on the crossing of its lines or levels, indicating potential trend changes or continuations.
Momentum Measurement: The indicator measures the momentum of price movements. It helps traders assess the strength or weakness of a trend by analyzing the speed and magnitude of price changes.
MACD Waves: The Fisher Indicator can be used to identify MACD Peak points and its waves. The wave lengths determine the strength in the trend.
Divergence Detection: The indicator can assist in detecting divergences between the indicator and price. Divergence occurs when the indicator's direction disagrees with the price movement, suggesting a potential trend reversal and trend continuation.
Entry and Exit Signals: The Fisher Indicator generates signals for potential entry and exit points in the market. Traders may look for histogram bars, or changes in the indicator's color or direction as indications to initiate or close trades.
Filtering Noise: The indicator helps filter out market noise and smooths price fluctuations. It focuses on significant price movements, reducing the impact of minor price fluctuations that might distract traders from the overall trend.
Customization: Traders can adjust the parameters of the Fisher Indicator to align with their trading preferences and timeframes. Parameters may include period lengths, smoothing methods, or signal line levels.
Visual and Audible Alerts: The indicator can generate visual and audible alerts when specific conditions or signals are met. This feature helps traders stay informed of potential trading opportunities without constant manual monitoring.
Conclusion:
With the Fisher MT4 Indicator, traders can gain a better understanding of market trends and make smarter trades, ultimately leading to greater success in the trading world.
Reach Us on WhatsApp
Fly Over to Telegram
Drop Us an Email
Settings
Period: The period used for calculating the Fisher Indicator, set to 10.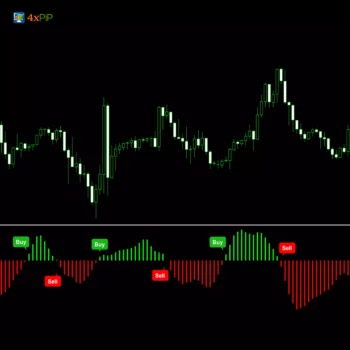 MT4 Fisher Indicator
Your review
* Review is required
Email
* Email is required
Q & A
There are no questions yet