MT4 BreakEven EA
$49.00
The BreakEven EA is an intelligent robot that locks certain profit for a trade so that it never closes out in loss. It makes sure that market reversals won't be able to close a trade in loss. It helps you to secure your profits in the unpredictable markets. Try BreakEven formula when you are unsure about if the market reverses after going few pips in profit. This EA will exit your Trades at a secure level by making sure that you do not lose against brokers.
Description
The MT4 BreakEven EA is designed for MetaTrader 4 platform. The 4xPip has designed MT4 BreakEven EA to provide the best risk management strategy to lock profits and effectively manage your trades. It intelligently moves the stoploss equal to open price, so that market reversals won't be able to close the trade in loss. Here is the complete list of features:
Universal Bot: The MT4 BreakEven EA applies to all currency pairs traded on the MetaTrader 4 platform. Regardless of the specific currency pair on which the EA is installed, it will lock the profit of all open trades across all currency pairs.
Automated Trailing Stop: The MT4 BreakEven EA automatically moves the stop-loss level to the break-even point once a specified distance is reached. This ensures that traders can secure their trades and eliminate the risk of potential losses.
Profit Protection:

4xPip has designed break-even functionality to lock profits by adjusting the stop-loss level to

break-even point

as the trade moves in the trader's favor. It allows traders to capture more significant gains during favorable market conditions while protecting against market reversals.

Customizable Parameters: Traders can customize the breakeven parameters such as distance and lock in pips. They can specify the desired profit level at which the stop-loss should be moved to Break-even, allowing for personalized trade management.
ATR settings: Trader can either adjust trailing stop loss according to pips or ATR.
Currency pair settings: As it is a multicurrency EA, there are 3 options available which are always changeable inside settings

 Allow Breakeven only for the current chart.

 Allow Breakeven for all currency pairs and charts.

 Allow Breakeven for specific currency pairs and charts.

Trade Optimization:  By utilizing the Break Even feature, traders can optimize their trades by locking some pips in profit. It helps traders stay in winning trades longer and exit trades at the Breakeven point.
User-Friendly Interface: The MT4 BreakEven EA offers a user-friendly interface that simplifies the installation, configuration, and monitoring process. All Traders from Beginner to Expert level can easily set up the breakeven analysis without the need for extensive technical expertise.  
Live Market: The MT4 Break Even EA has the ability to run in the live market and demo account across all charts & pairs including Forex, Cryptos, Metals, Commodities, Stocks etc.
How it works
Install MT4 BreakEven EA into your MetaTrader 4 platform

Load the EA file onto the chart

Adjust Break even settings according to your preferences

You can change distance pips

You can change step pips

Select currency pairs according to your trading preferences

You can either allow Break Even only for the current chart

Or you can allow Break Even for all currency pairs and charts

Or you can allow Break Even for specific currency pairs and charts

The BreakEven EA will be running on one chart, but it will be securing the profits of all the charts on MT4 platform.
Example for Buy trade
Example for Sell trade
Conclusion
In conclusion, the MT4 BreakEven EA is a Multi currency expert advisor for traders seeking to enhance their trading performance and manage their trades with precision. By automating the Break-Even functionality, this 4xPip expert advisor provides traders with a powerful solution to protect profits, minimize losses, and optimize their trading results. Whether you are a novice or an experienced trader, the MT4 BreakEven EA will become an invaluable asset for your trading, helping you navigate the markets with confidence and achieve greater success. Download it now to secure your trades from losses and win against the broker.
Reach Us on WhatsApp
Fly Over to Telegram
Drop Us an Email
Settings
Allow BreakEven: A boolean value (true/false) that determines whether to enable or disable the breakeven feature.
Apply To: Select the desired option to determine which trades the BreakEven feature will be applied to:

All Pairs: BreakEven will be applied to all trades across the entire MT4 account.
Current Pair: BreakEven will only be applied to trades of the current currency pair.
Custom Pairs: BreakEven will only be applied to the specified custom currency pairs. Enter Comma Separated Custom Pairs without space: If you selected the "Custom Pairs" option in the previous setting, specify the custom currency pairs you want BreakEven to be applied to. Enter the currency pairs separated by commas without spaces. For example: EURUSD,GBPUSD,GOLD.

Distance Pips: The number of pips (e.g., 12 pips) indicating the profit amount required to activate the breakeven feature.
Lock Pips: The number of pips (e.g., 2 pips) at which the stop loss will be locked in a profitable position.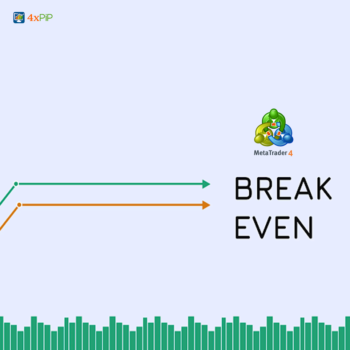 MT4 BreakEven EA
Your review
* Review is required
Email
* Email is required
Q & A
There are no questions yet