MT5 EA Drawdown Limiter
$0.00
The MT5 EA Drawdown Limiter is a powerful Expert advisor that helps traders control drawdowns in their MetaTrader 5 accounts, allowing for more effective risk management and better trading performance.
Description
Are you afraid of high drawdowns and margin call?
The MT5 Drawdown Limiter EA is a perfect bot for those traders who suffer with high drawdown problems. These high drawdowns sometimes lead to Margin Call especially when trading with multiple pairs, long stoploss, so many trades, multiple EAs and unpredictable market moves. The Drawdown limiter will show you all the list of pairs, with their lotsizes and drawdowns on the chart. It allows you to control drawdown by getting rid of losing trades and intelligently closing profitable trades to lock their profits. The Drawdown limiter EA has the ability to manage manual trades and other EA trades. It empowers traders to optimize their risk-reward strategies, minimize losses, and achieve better trading performance.
Drawdown control: This MT5 EA allows traders to set predefined drawdown limits, ensuring that trades are automatically closed when the specified drawdown threshold is reached. By managing drawdowns effectively, traders can reduce their maximum drawdown.
Profit Target: The Drawdown EA helps traders to lock profits of existing trades. By maintaining constant profits and good results.
Real-time Display: The MT5 EA Drawdown Limiter continuously monitors the drawdown across several pairs, and display their drawdown and lotsize on one chart. So that you are well informed about what's going on other pairs, make timely decisions and take appropriate actions to mitigate risks.
Customizable pairs: Traders can easily customize the drawdown limits and currency pairs. They can add or remove any currency pair from drawdown functionality.
Compatibility with MT5 EAs: The MT5 EA Drawdown Limiter seamlessly integrates with all the currency pairs of MetaTrader 5. It can manage both, the manual trades and automatic trades opened by any other EA. Traders can apply this expert advisor to their existing EAs without any hassle, enhancing their loss recovery capabilities without disrupting their trading systems.
Performance optimization: By effectively managing maximum drawdown, traders can optimize the performance of their EAs and manual trades. The Drawdown Limiter EA ensures that trades are closed at the appropriate profitable levels, and helping traders maintain consistent profitability.
Conclusion:
In conclusion, drawdown in trading is a big problem now a days. 4xPip offers its solution that helps you get out of big drawdowns and close trades at Profits. Try it now, before a margin call.
Reach Us on WhatsApp
Fly Over to Telegram
Drop Us an Email
Settings
Allow Drawdown limit?: Set to "true" to enable the drawdown limit, or "false" to disable it.
Apply To: Choose from "All Pairs" to apply the drawdown limit to the entire account, "Current Pair" to apply it to the currently active pair, or "Custom Pairs" to apply it to specific pairs.
Enter Comma Separated Custom Pairs without space: If "Custom Pairs" is selected, specify the pairs to apply the drawdown limit to, separated by commas without spaces (e.g., EURUSD,GBPUSD,GOLD).
Drawdown Percentage: Set the desired drawdown limit percentage (e.g., 5%) to trigger actions when the account or pair reaches this level.
Profit Percentage: Set the desired profit target percentage (e.g., 5%) to close trades when the specified profit is reached
Show Display: true/false – If true, An Information table is displayed with Amount of Lots and Drawdown for each currency pair.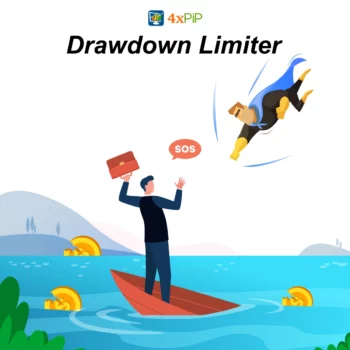 MT5 EA Drawdown Limiter
Your review
* Review is required
Email
* Email is required
Q & A
There are no questions yet