In this article, we are writing to tell you all about 4xPip. Additionally, we all know financial markets as well as we have knowledge about the trading of digital currencies. Moreover, the major market on which 4xPip is working is the forex market. Notably, 4xPip has designed many products to assist manual traders in their trading. Furthermore, 4xPip provides profitable bots to help traders get as much maximum profits as possible. Lastly, let's start reading the article to get more information about 4xPip and its services.
What is 4xPip?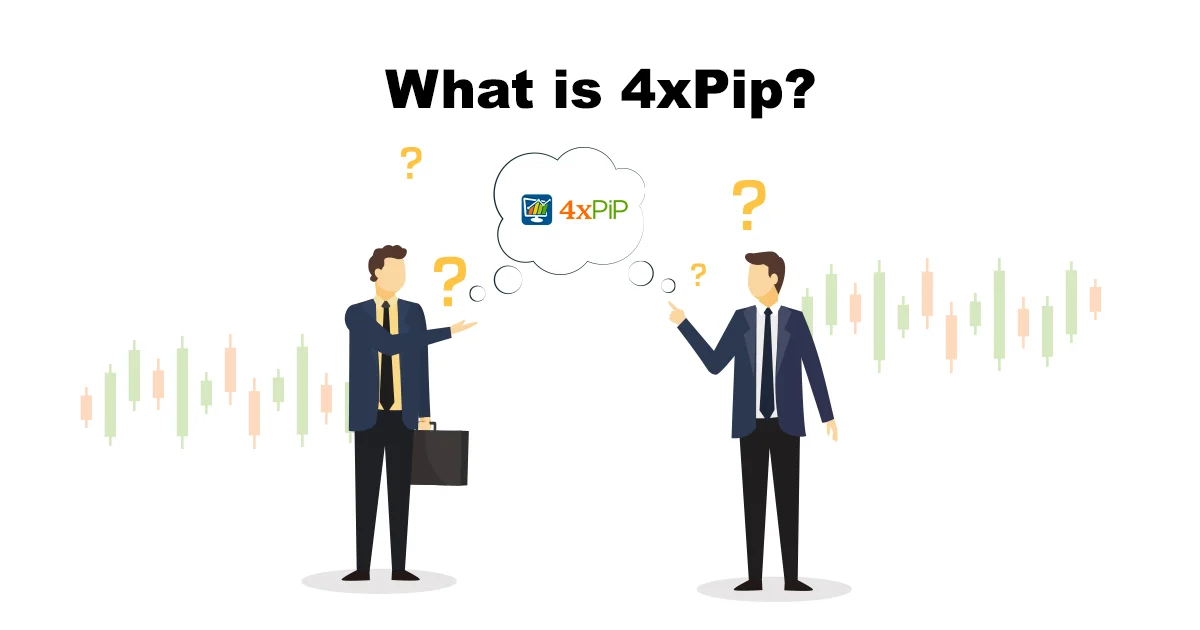 4xPip is a leading store built for automated trading on the MT4 and MT5 platforms. Additionally, our products are Indicator and Expert Advisor on MetaTrader 4/5 for financial markets, including forex, crypto, commodity, stocks, and indices. Notably, 4xPip's trading bots make intelligent decisions based on trading analysis, candlestick patterns, price charts, and market trends. Furthermore, our auto-trading EA knows when to open a trade and how to maximize profit.
Manual Trading: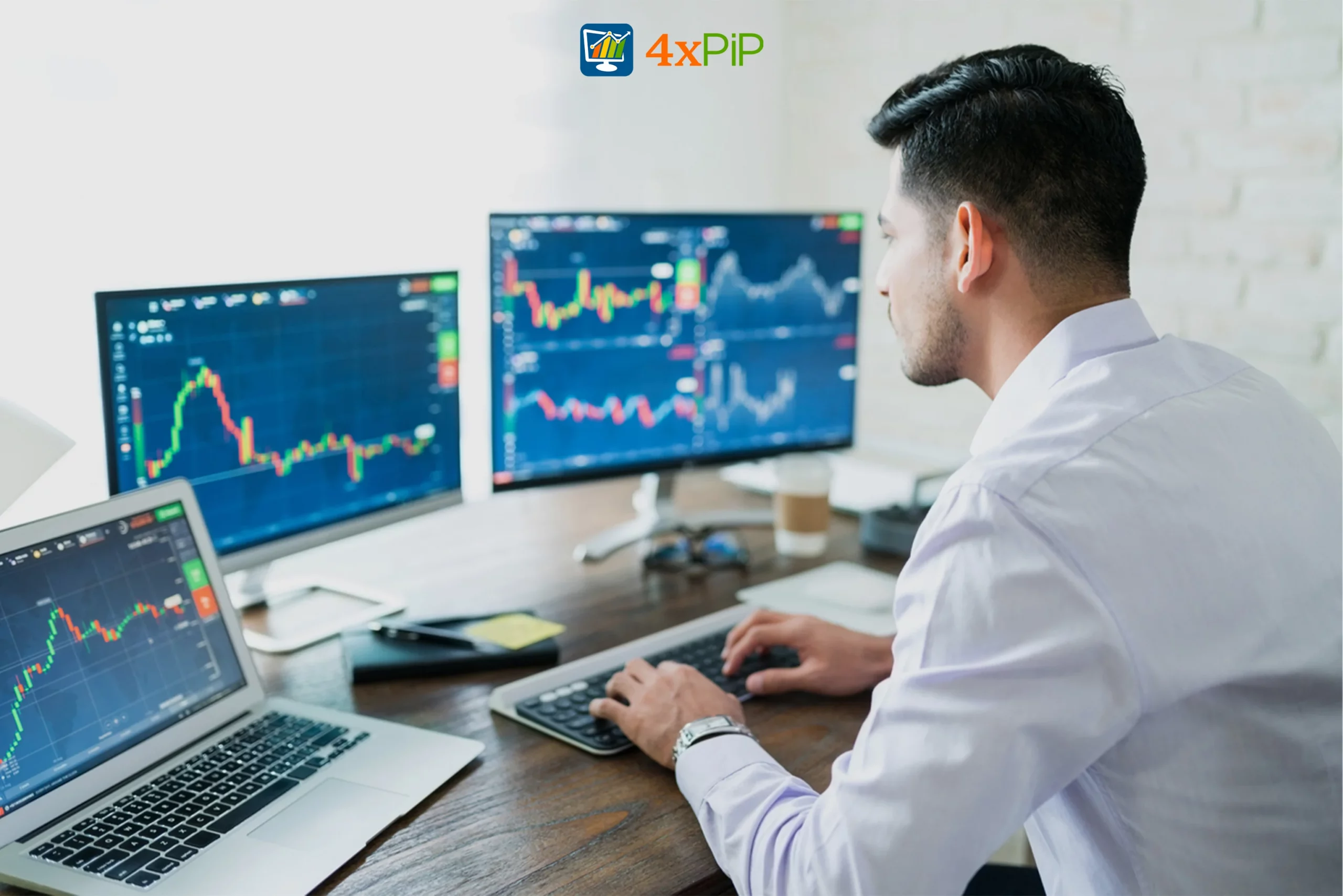 Traders used to do manual trading, analyzing an array of charts to decipher opportunities across different currency pairs and multiple timeframes. In this process, they were required to constantly switch between them, seeking out potential trade entry points. However, the advent of groundbreaking tools like Forex scanners has revolutionized their trading journey, rendering it significantly more streamlined and efficient. Additionally, with numerous charts to manage, the process demanded an extensive investment of time, often spanning hours and even days, anchoring traders to their computers to ensure no profitable opportunity slipped by unnoticed. Undoubtedly, this proved to be an arduous and time-consuming ordeal, demanding unwavering attention and patience. Consequently, by automating the process of market analysis, the indicators and Expert Advisors (EAs) have emerged as invaluable assets, empowering traders to enhance their decision-making capabilities and seize potentially lucrative prospects swiftly and effectively.
Indicators and EAs:
In trading, an indicator refers to a statistical tool used to analyze past and current price movements, as well as other relevant market data, to predict future market trends. Moreover, indicators can be based on various mathematical calculations and are typically displayed on charts to assist traders in making informed decisions about buying, selling, or holding assets. Furthermore, they help traders identify potential entry and exit points, gauge market momentum, and assess the overall strength or weakness of a particular financial instrument. Notably, common types of indicators include moving averages, oscillators, trend-following indicators, and volatility indicators, among others.
An Expert Advisor (EA) in trading refers to a software program designed to automate trading operations on the MetaTrader platform. Moreover, this tool operates based on pre-programmed trading strategies and rules, allowing it to execute trades automatically without the need for manual intervention. Furthermore, Expert Advisors can analyze the market, identify trading opportunities, and place orders on behalf of the trader according to predefined parameters. Additionally, they are equipped to handle various tasks such as generating trading signals, managing risk, and executing trades with precision, speed, and efficiency. Notably, Expert Advisors are widely used in the foreign exchange market, or we can say forex market, as well as in other financial markets, providing traders with the advantage of continuous, systematic trading based on predetermined strategies.
What Services Does 4xPip Provide?
4xPip stands as a premier platform dedicated to automated trading within the realms of MT4 and MT5. Our wide array of offerings includes Indicators and Expert Advisor EAs for various financial markets, including forex trading, crypto trading, commodity trading, stocks, and indices. With a profound understanding of trading dynamics, our efficient trading bots execute astute decisions derived from meticulous trading analysis, candlestick patterns, price charts, and comprehensive market trends. Through our sophisticated auto-trading EA, we ensure strategic trade openings and optimal profit maximization, cementing our commitment to delivering superior trading experiences to our valued clients. It also provides consultancy services and expert guidance to traders free of cost. 
What Products 4xPip Has Developed So Far?
4xPip has designed many high-performing indicators and Expert Advisors (EAs) for traders to trade effortlessly to gain maximum profits. Additionally, it has established products for market analysis, currency pair information, news events and types of impacts, and trade management, as well as some products for customized trading strategies communicated by traders. 
Some top-selling bots are:
Why You Should Choose 4xPip?
Traders favor 4xPip as their premier partner for transforming financial trading. With tailored indicators and EAs for diverse markets, 4xPip eases trading complexities. Offering the Trade Manager, Dashboard Scanner, News EA, Drawdown Limiter, Telegram integration, and High-Performance Indicators, 4xPip ensures seamless trade management for maximum profits. Its global trust across New York, London, Tokyo, Hong Kong, Sydney, Paris, the Middle East, Africa, Latin America, Mumbai, Toronto, and Frankfurt underscores its reliability. 4xPip's vision for digital transformation and innovative solutions keeps it ahead, consistently delivering exceptional tools for traders to excel in dynamic markets.
Customers All Over the World: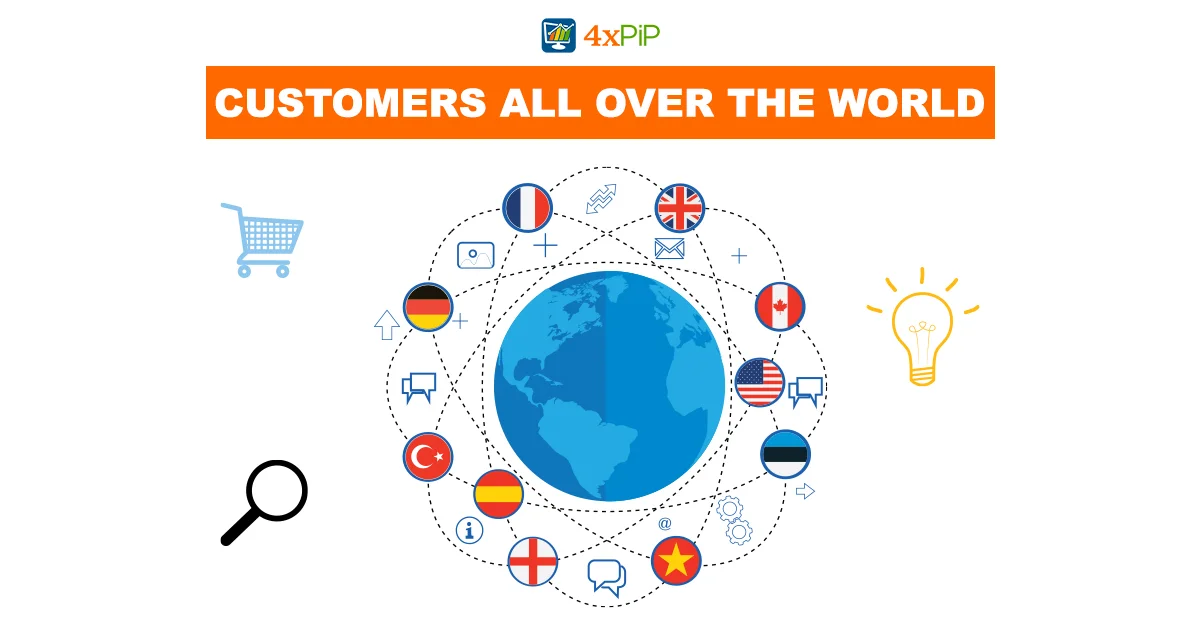 Customers all over the world, from the bustling financial hubs of New York and London to the vibrant markets of Tokyo and Hong Kong, have come to trust 4xPip as their preferred automated trading partner. Moreover, from the sunny shores of Sydney to the lively streets of Paris, traders have found solace in the reliability and efficiency offered by 4xPip's innovative trading bots and solutions. Additionally, across diverse regions such as the Middle East, Africa, and Latin America, 4xPip has built a strong reputation for its user-friendly interface and dedication to meeting the unique trading needs of global investors. Furthermore, as trusted by traders in bustling cities like Mumbai, Toronto, and Frankfurt, 4xPip continues to foster a secure and seamless trading experience for customers worldwide.
Our Vision:
At 4xpip, our mission is to revolutionize the world of financial trading and help businesses grow by providing innovative trading solutions and digital transformation using modern approaches. We have transformed over one thousand manual trading strategies into auto-trading EA robots that trade tirelessly 24×7. 4xPip aims to deliver exceptional trading tools and build high-performing bots for our clients, fulfilling promises with enthusiasm and responsibility. We are providing many trading EAs to increase your revenue such as the License system, indicators, and Telegram integration. 4xPip mainly deal in MQL, Pinescripts, Python, and C#. Our team is fast-paced, dedicated, and committed to achieving our vision of spreading power of automated trading across the globe.
Summary:
4xPip is a leading provider of automated trading solutions for the MT4 and MT5 platforms. It offers many trading bots and Expert Advisors for various financial markets, including forex, crypto, commodities, stocks, and indices. 4xPip's trading bots are designed to make intelligent decisions based on trading analysis, candlestick patterns, price charts, and market trends. The company also provides consultancy services and expert guidance to traders free of cost. Some of 4xPip's top-selling bots include Trade Manager, Dashboard Scanner, News EA, Drawdown limiter, Telegram integration, and High-Performance Indicators.
In short, 4xPip is a one-stop shop for traders looking for high-quality automated trading solutions. With its wide range of products/services, 4xPip can help traders of all levels succeed in the world of automated trading.