Traders nowadays like to save time while handling a large number of trades to get maximum profit through these trades. In this article, 4xPip is providing the readers with the details of an amazing product that can be very useful for traders for efficient trading and the trader can easily manage multiple trades at a time simultaneously. Let's start!
You can visit the 4xPip website for trading robots and indicators for a good trading experience. Click on the link below and get your hands on these game-changers! 4xPip Website.
Manual Trading: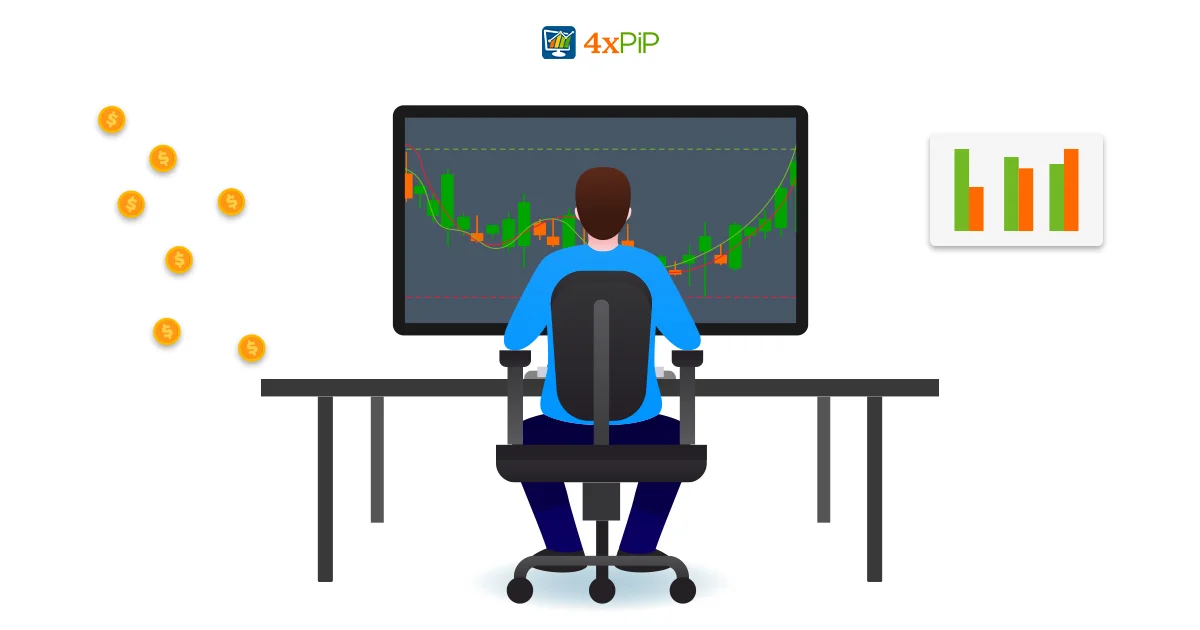 What is a Trade Manager?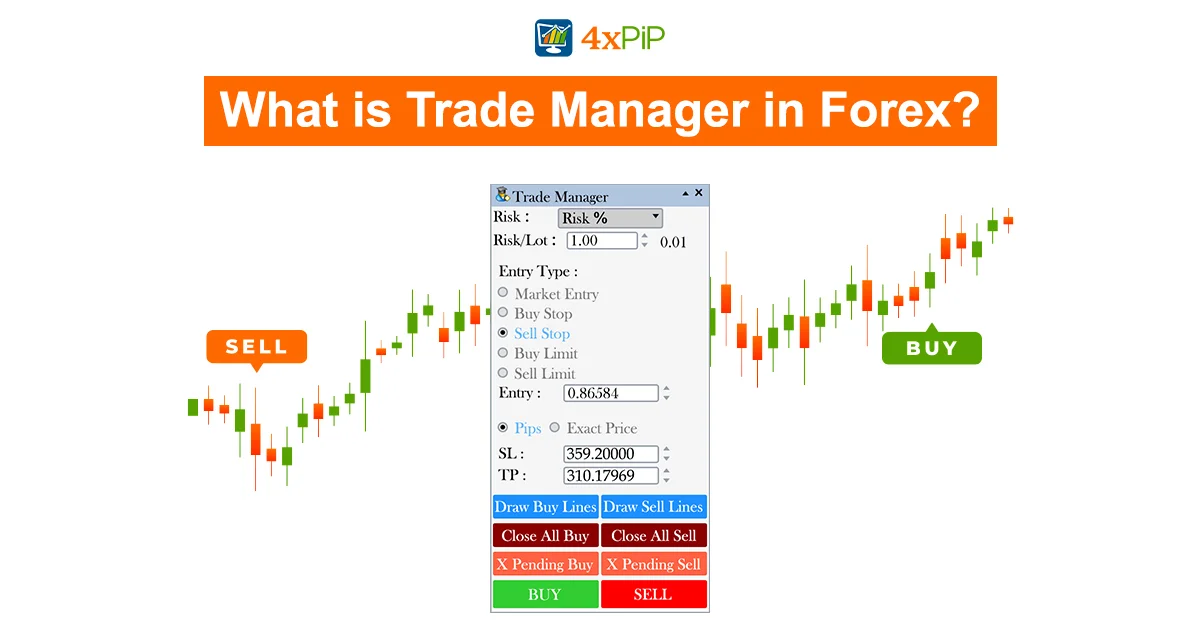 The Forex Trade Manager represents a specialized software application tailored for Forex trading on the MetaTrader 4 and MetaTrader 5 platforms (MT4 and MT5). Its intuitive trading panel streamlines the process of placing orders, allowing users to effortlessly set the opening price, stop loss, and take profit by merely manipulating lines on the chart. Moreover, it performs vital calculations, including the distance of the stop loss and take profit in pips from the opening price, the value in the account currency, and the Risk Reward Ratio.
4xPip has designed it for both Metatrader 4 and Metatrader 5.
Get these using the links below:
Trade Manager by 4xPip:
4xPip Trade Manager stands out as exceptional EA designed to support both forex traders and those who prefer manual trading. Equipped with an intuitive interface and an efficient calculator, it streamlines the trading experience. This 4xPip Expert Advisor acts as a reliable companion for traders, empowering them to effortlessly oversee their trades. It allows them to modify volume of trades, utilizing either fixed or automated lotsize based on their risk tolerance.
This tool revolutionizes trading landscape, providing time-saving benefits with integrated calculator, assisting in computing prices for executing various trade types. It adeptly manages Buy-stop, Sell-stop, Buy-limit, and Sell-limit orders and allows traders to customize Stoploss/Takeprofit levels according to their preferences. Also, with its automated functionality, it simplifies trading process, handling trade initiation, closure, Stoploss, Takeprofit, and lotsize management efficiently.
Features of Trade Manager by 4xPip: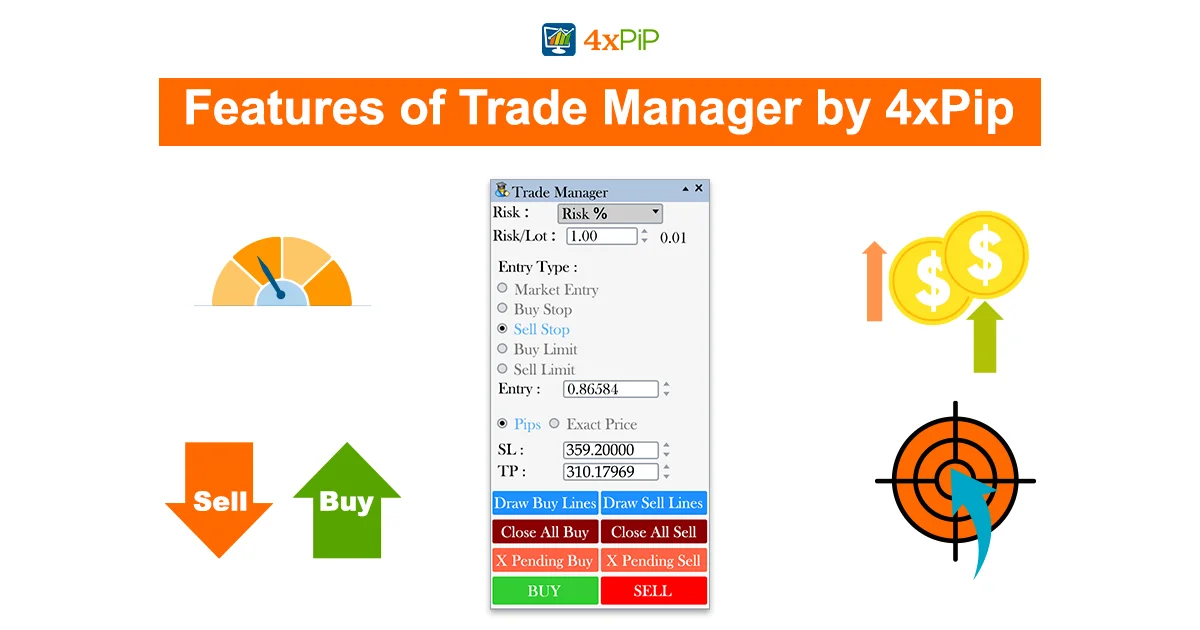 Risk level and lot size:

The MT4/MT5 4xPip EA simplifies the process for traders to set risk levels and choose lot sizes with just a few clicks, offering the option between fixed lots or auto lots based on risk percentage.

Open Pending Trades: It

enables opening of pending trades (Buy-Stop, Sell-Stop, Buy-Limit, Sell-Limit) by drawing lines on chart, allowing for easy adjustment of trade positions and precise chart-level trade openings.

Stoploss/Takeprofit:

Trading panel facilitates adjustment of stoploss/takeprofit levels by allowing traders to draw lines on chart, eliminating need for manual calculations.

Delete Pending Trades:

It includes features to close pending trades with one click, efficiently managing pending trades on Mt4/MT5 platforms.

Buy lines and Sell lines:

Furthermore, 4xPip-designed Expert Advisor simplifies trading for traders by enabling them to draw buy and sell lines, allowing for easy trade adjustments on the chart, including modifications to stop loss and take profit levels for both market and pending trades.

Open Market Trades:

4xPip offers user-friendly interface for accurately opening buy/sell trades in market, saving time by streamlining process of adjusting stoploss, takeprofit, and conducting manual calculations.

Close all Buy/Sell Buttons:

These allow traders to close all open positions with single click, closing thousands of trades efficiently.

4xPip MT4/MT5 Built-in Calculator:

Moreover, it simplifies trade and risk management by performing complex calculations in few clicks, eliminating need for traders to engage in time-consuming manual calculations on MT4/MT5 platforms.

Stoploss:

It allows to set stop-loss in either pips or price, providing streamlined approach for traders to set stoploss.

Takeprofit:

Trading panel also facilitates setting of take profit levels in either pips or price, simplifying process for all financial and manual traders to set takeprofit efficiently and save valuable time.

Easy to use:

It can be placed anywhere on chart, minimized, and moved around, offering traders flexibility in its placement.

Delete Unopened Pending Order: It deletes pending trades if they remain unexecuted after designated period, safeguarding traders from potential losses.
Confirmation Message:

Trade manager prompts a confirmation message before executing sensitive operations, such as closing out trades, ensuring careful decision-making.

Alerts:

Furthermore, it sends alerts to user's desktop/email/mobiles whenever trade opens/closes, or when pending order transforms into market order.
Summary: