In today's trading landscape, traders are increasingly seeking time-saving solutions to efficiently manage numerous trades and maximize their profits. In this piece, 4xPip introduces a remarkable product that proves immensely beneficial for traders, enabling the seamless handling of multiple trades concurrently. Let's delve into the details! 
Moreover, for an enhanced trading experience, you can explore the range of trading robots and indicators available on the 4xPip website. Click the link provided below to access these transformative tools and elevate your trading endeavors. 4xPip website
What Does 4xPip Trade Manager Do?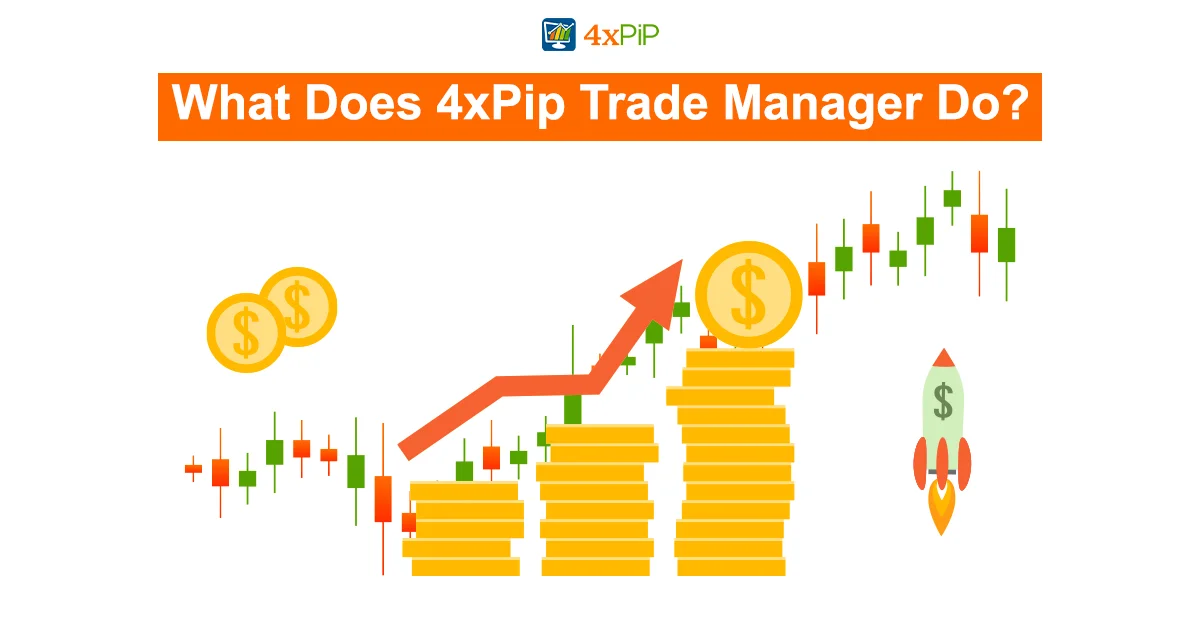 The 4xPip Trade Manager, a top-tier EA developed for MetaTrader 4/5, serves as a powerful asset for forex traders and manual traders alike. With its user-friendly interface and efficient calculator, this Expert Advisor streamlines the trading process, enabling seamless trade placement and management. Additionally, traders can effortlessly adjust their lot sizes, whether opting for a fixed amount or an automated lot size based on their risk preferences. This time-saving tool features a built-in calculator that simplifies complex price calculations for placing various pending trades, including Buy stop, Sell stop, Buy limit, and Sell limit, while allowing for easy customization of Stoploss and Takeprofit levels according to traders' individual preferences.
Moreover, streamlining the trade execution process, the 4xPip Trade Manager automates trade placement, closure, SL, TP, and lot size management, all achieved effortlessly with just a few clicks.
The 4xPip Trade Manager stands out for its intuitive functionality and user-friendly design, specifically tailored to cater to the needs of modern traders. Designed for MetaTrader 5, this tool incorporates a unique mathematical calculator that simplifies complex risk-based calculations, facilitating efficient adjustments for Stoploss, Takeprofit, and trade entries. Additionally, offering a streamlined approach to trade execution, this MT5 Expert Advisor enables traders to place Buy and Sell trades swiftly, eliminating the need for extensive mathematical expertise. With its seamless integration into the trading chart, the 4xPip Trade Manager empowers traders to navigate the market seamlessly, reducing the need for time-consuming procedures and enhancing overall trading efficiency.
Functionalities of Trade Manager: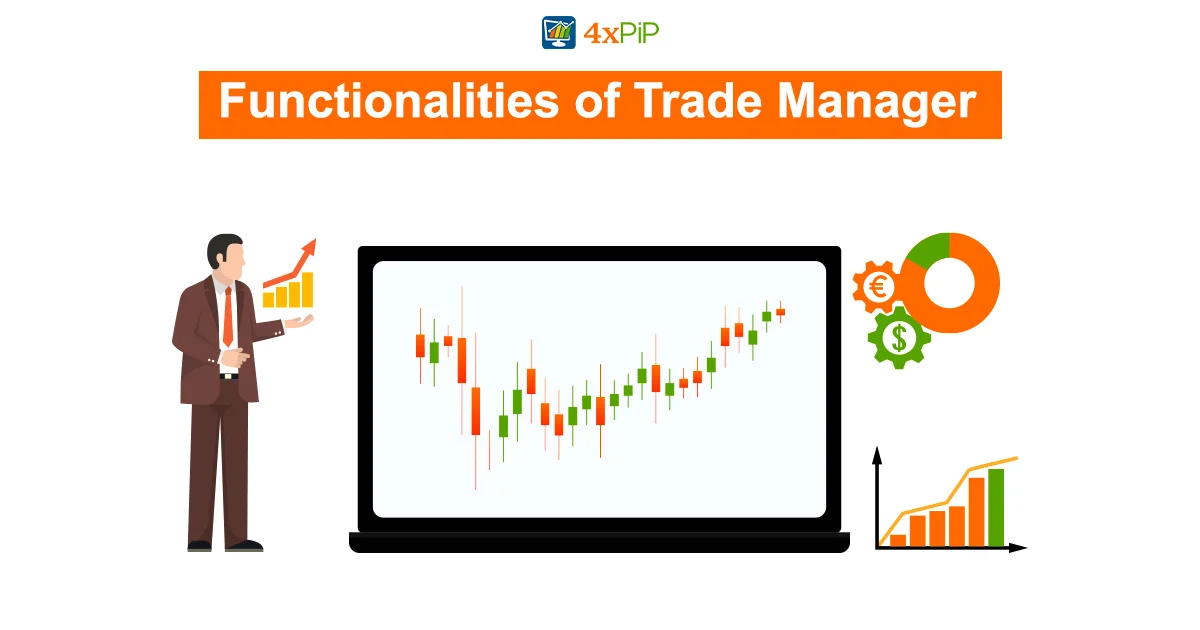 To reduce the window size of the Best Trade Manager displayed on the price chart.

To remove the panel from the chart altogether.

Choose the appropriate radio button to initiate a market buy or market sell trade.

Select one of the radio buttons available for pending trade entry, including Buy stop, Sell stop, Buy limit, and Sell limit.

Utilize the dropdown menu to alternate between fixed lot sizes or automatic lot sizes.

If opting for the auto lot size, input your desired risk percentage; if choosing the fixed lot, input the specific lot size.

Determine the type of Stoploss and Takeprofit, which can be either based on pips or price.

Input the designated amounts for Stoploss and Takeprofit for the trade.

Employ the provided buttons to close market buy and market sell trades swiftly.

Utilize the Buy and Sell buttons to execute market trades efficiently.

Take advantage of the designated buttons to draw lines on the chart for the positioning of pending orders.

Utilize the 'x pending buy' and 'x pending sell' buttons to delete pending trades from the chart.
How Does the Trade Manager Work?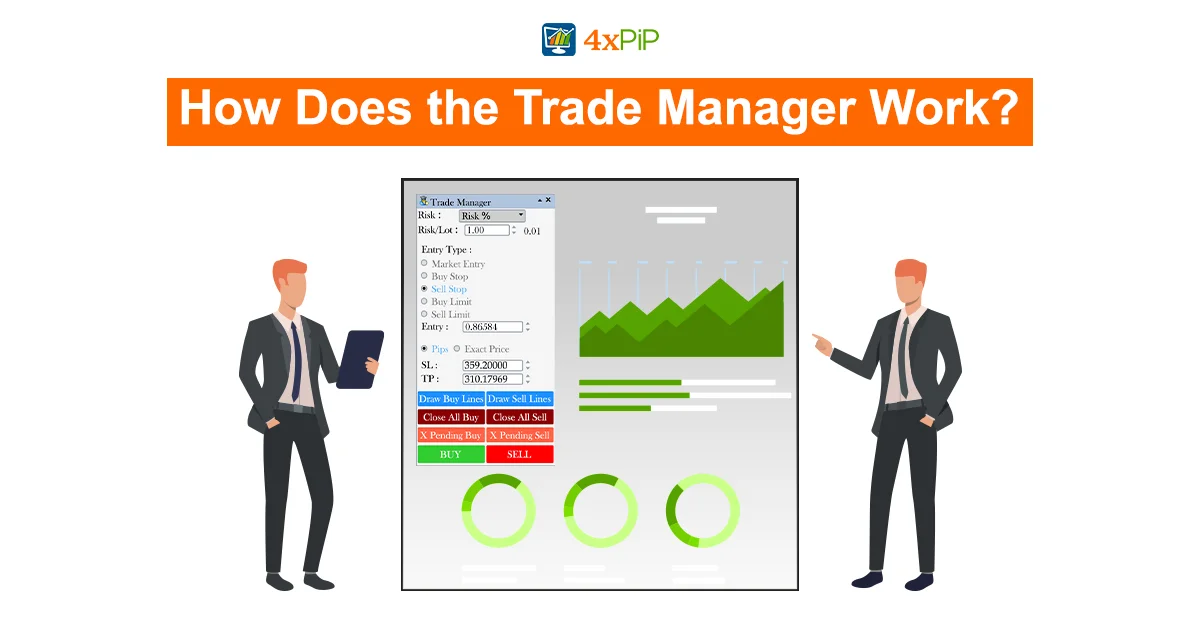 Advantages of 4xPip Trade Manager:
Conclusion: