Manual Trading is quite time-consuming, and making correct calculations during fast-moving trades is difficult. Forex traders find it hectic to calculate lot size for a running trade. 4xPip has designed an amazing product called Trade Manager. In this article, we will explain what a trade manager is and how it works. Read the complete blog to get detailed information about 4xPip Trade Manager. Let's begin!
What is Trade Manager?
The Forex Trade Manager is a software application designed for Forex trading on both the MetaTrader 4 and MetaTrader 5 platforms (MT4 and MT5). It offers a user-friendly trading panel that allows for quick and straightforward order placement. Users can easily set the opening price, stop loss, and take profit by simply dragging lines on the chart. The program also provides essential calculations such as the distance of SL and TP in pips from the opening price, the value in the account currency, and the Risk Reward Ratio.
This versatile tool is compatible with various symbols, including indices, CFDs, metals, futures, and cryptocurrencies, expanding its utility beyond currency pairs. Traders of all experience levels can benefit from the Forex Trade Manager, irrespective of their preferred trading strategy. Additionally, it serves as a valuable aid for participants in the Prop Firm Challenge, assisting them in optimizing risk management and enhancing their prospects of meeting the challenge's requirements.
Lot Size Calculation:
In the Forex trading world, especially for beginners, the calculation of a transaction's lot size is a commonly asked question. The Forex Trade Manager, available on MetaTrader 4 and MetaTrader 5 (MT4 and MT5), simplifies this process by automatically computing the position size based on a specific risk percentage. This eliminates the need to fret over complex formulas, providing a seamless solution for traders. By inputting the desired risk percentage in the trading panel or the account currency amount, and subsequently specifying the Stop Loss level either through the panel or by adjusting the SL line on the chart, the program efficiently determines the appropriate lot size for the transaction. This streamlined approach ensures that risk remains effectively managed, underlining the pivotal role of prudent money management as a cornerstone of success in the Forex market.
SL, TP, & Pending Order: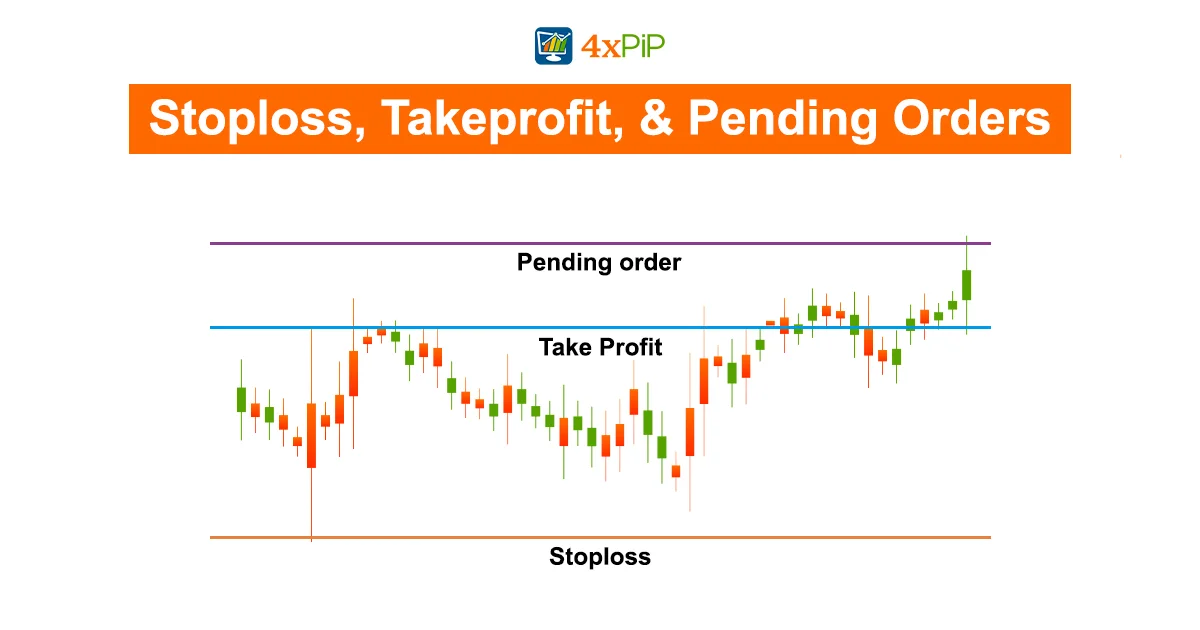 In the forex market, traders often face the challenge of Stop Loss Hunting, a practice where brokers manipulate prices to trigger customers' stop losses. To counter this, traders can utilize the hide SL, TP, and pending orders feature offered by Forex Trade Manager. This function ensures that SL and TP appear solely as horizontal lines on the chart, without being transmitted to the broker. Once the price hits the SL or TP level, the EA automatically closes the trade. Users can adjust virtual SL and TP in the same manner as standard ones. However, it's crucial to keep in mind that enabling stealth mode requires the continuous operation of the application.
Advantages of Trade Manager:
The MT4 Trade Manager offers a host of advantages that significantly enhance the trading experience. Firstly, it simplifies the process of order placement, enabling traders to swiftly set up Take Profit, Stop Loss, Trailing Stop, and Break-even orders before executing trades. Additionally, the tool facilitates efficient risk management by allowing users to calculate position sizes based on specific risk percentages, eliminating the need for complex manual calculations.
Furthermore, its hide SL, TP, and pending orders feature provides an effective shield against the practice of Stop Loss Hunting, ensuring a more secure trading environment. The incorporation of trade lines on the chart and the ability to work with various types of symbols expand the tool's utility beyond just currency pairs, catering to diverse trading preferences. With its user-friendly interface and comprehensive functionality, the MT4 Trade Manager stands as a valuable asset for traders of all experience levels, fostering improved decision-making, streamlined operations, and enhanced overall performance in the dynamic forex market.
Trade Manager by 4xPip: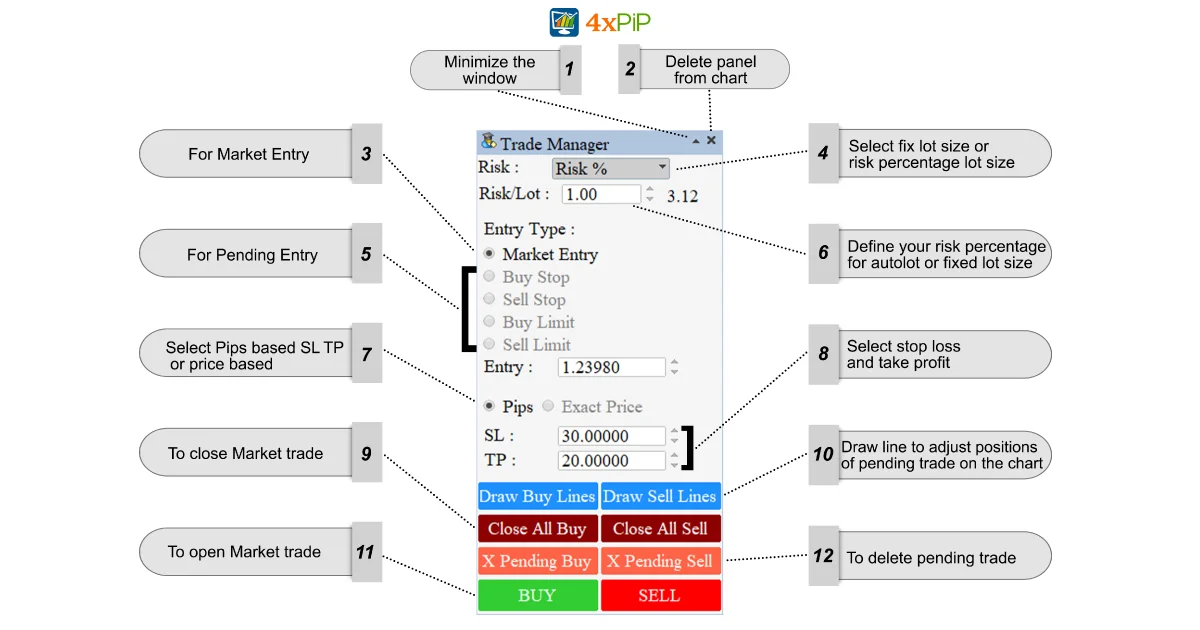 The Trade Manager, developed by 4xPip, is a top-notch EA (Expert Advisor) meant to assist forex and manual traders. It comes with a user-friendly interface and a time-saving calculator, making trading a breeze. This 4xPip Expert Advisor is a valuable ally for traders, enabling them to easily manage their trades. It allows them to adjust lotsize, either using fixed amount of lots or an automatic lotsize based on risk tolerance. This tool is a game-changer, saving traders time with its built-in calculator that helps them calculate prices for placing various types of trades. It can handle the Buy stop, Sell stop, Buy limit, and Sell limit, along with adjusting the Stoploss and Takeprofit according to the trader's preferences. This automated system simplifies trading process, handling trade placement, closure, SL, TP, and lotsize management effortlessly in just few clicks.
Conclusion:
In conclusion, Forex Trade Manager emerges as crucial asset for traders seeking to streamline operations and optimize strategies in dynamic world of forex. With user-friendly interface, comprehensive features, and efficient risk management capabilities, it stands as reliable companion for traders of all levels. From simplifying order placement, lotsize calculations, and providing shield against Stoploss Hunting, it embodies essence of security and enhanced performance. Furthermore, using Trade Manager, traders can navigate complexities of forex market with confidence, making informed decisions, and maximizing profit.