The following document describes how to set up MT4 to Telegram notifications.
1. Configuring Telegram Channel
1. Create a Telegram Channel with your brand name and logo (optional)
2. Add the bot as an administrator to post messages only
3. Send the following message two times to the channel /start
4. Tmsrv.pw is a telegram bot that will send you a token message. Token starts from – <dash>. Please copy that token and save it somewhere accessible place.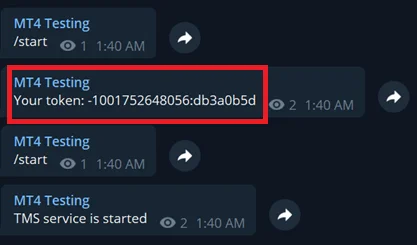 5. Delete this token message permanently from the channel so that no one else can read this. Token is a unique key for every channel and it is very confidential.
2. Setting up MT4 to send Alerts to telegram channel
1. Open MT4
2. Click Tools at the main menu and select options from the dropdown menu
3. Click Expert Advisors
4. Check "Allow WebRequest for Listed URL"
Check "Allow DLL imports"
5. Enter the following url to the list of url
6. Press OK
7. Install indicator/EA on the chart, and add your token (that you copied in step 1.4) to the EA settings next to 'Telegram Token'
8. Allow DLL imports in the Common tab
9. Run your indicator/EA in the live market.
Important Note:
MT4 Indicator or EA is not able to send messages to telegram during backtesting. It can only send messages when the market is running. It can send messages from Demo and Real both accounts.
MT4 Telegram integration uses DLL imports which is a mandatory requirement.
MT4 notifications can only be sent to Telegram Channel, not the Telegram Group.
This article has been written by 4xpip programmers who are top service providers in MetaTrader 4 domain.
🔎For more information https://4xpip.com/book-appointment
🔎For programming of your bot https://4xpip.com/custom-bots